Shandong Peninsula Bay Habitat and Biological Resource Restoration Technology Innovation and Application" project won the first prize of Shandong Science and Technology Progress Award
---
---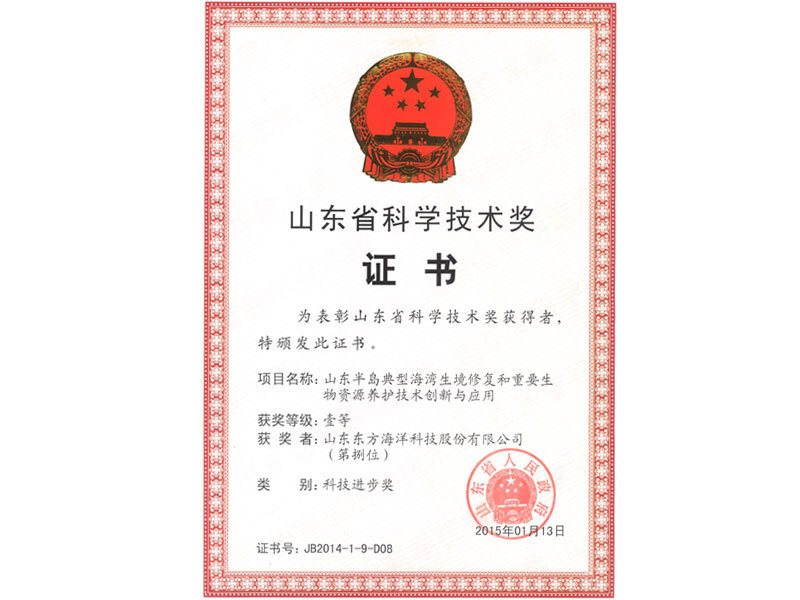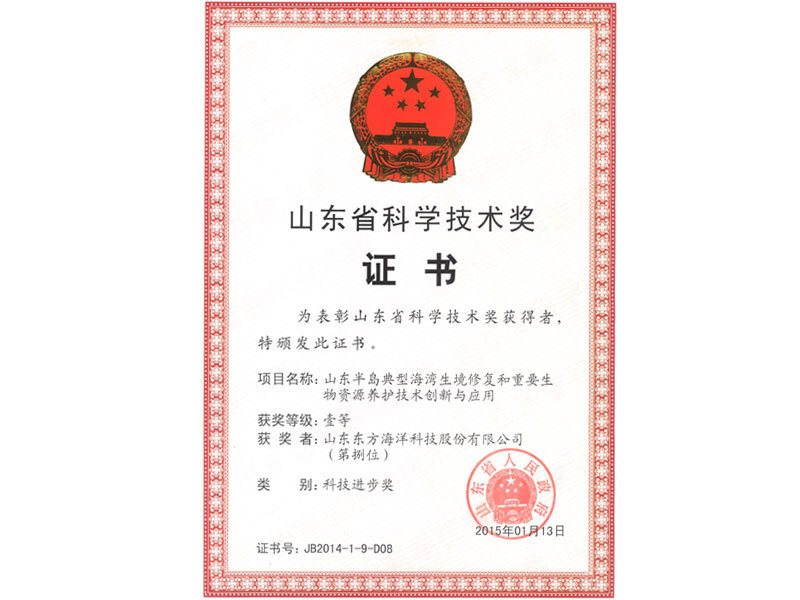 The "Shandong Peninsula Bay Habitat and Biological Resource Restoration Technology Innovation and Application" project mainly aims at the eutrophication of Laizhou Bay, the pressure of aquaculture in Rongcheng Bay, and the decline of fishery resources in Haizhou Bay. , Habitat and biological resource restoration, and restoration effect evaluation technology research, and constructed bay habitat and biological resource restoration facilities, technologies and models with the main line of "background assessment - habitat restoration - resource conservation - effect assessment".
The project identified the current situation and basic ecological functions of seagrass resources in typical sea areas of the Shandong Peninsula, and invented patented technologies such as the sowing and transplanting of Elephantella sp. (Internationally, less than 50%); breaking through the technical problem of asynchronous maturation of sage planting vegetables, realizing large-scale breeding, and cooperating with large algae such as kelp and mussels, realizing the restoration of bay habitats covering the whole year; research and development A series of new artificial algal reefs and fish reefs based on biological behavior characteristics have been developed; the water quality of the demonstration area has been significantly improved, and the biodiversity of biological species has increased significantly. Aiming at the key species in the restoration of resources in the bay, breakthroughs have been made in the large-scale breeding technology of seedlings such as C. chinensis and octopus; the lime ring nesting method is invented, which solves the technical problem of long-term labeling of sea cucumbers in vitro; the binocular stereo video measurement is established The technology realizes the accurate measurement of the live weight of fish and sea cucumber. A total of 15.28 billion grains (tails) of sea cucumbers, octopus, clams, flounder, scorpionfish, golden squid, Chinese prawns and swimming crabs have been proliferated and released, and the economic and biological resources of the demonstration area have increased significantly. A typical bay ecosystem health evaluation system covering aquaculture activities was constructed, and the ecosystem health status of Laizhou Bay, Rongcheng Bay and Haizhou Bay was evaluated; combined with the characteristics of habitat resources of important bays in Shandong Peninsula, the ecological channel model was effectively used to evaluate Laizhou Bay. The ecological capacity of swimming crab, sea cucumber in Rongcheng Bay, and abalone in the wrinkled plate, scorpionfish in Haizhou Bay and six-line fish in Haizhou Bay provides a scientific basis for the implementation of habitat and resource restoration. The results of the project have been integrated and applied by 5 large and medium-sized enterprises, covering an area of ​​107,000 mu and a promotion area of ​​756,000 mu; the direct new output value is 1.08 billion yuan, the new profit is 380 million yuan, the indirect new output value is 6.01 billion yuan, and the new profit is 2.11 billion yuan. billion.
Appraisal experts agreed that the achievement has obvious innovations in habitat and biological resource restoration, restoration effect evaluation, etc., with significant economic, social and ecological benefits, and has generally reached the international advanced level.
Project participants also include Institute of Oceanography, Chinese Academy of Sciences, Ocean University of China, Shandong Institute of Marine Biology, Shandong Institute of Marine Resources and Environment, First Institute of Oceanography, State Oceanic Administration, Mashan Group Co., Ltd., Shandong Blue Ocean Technology Co., Ltd., Shandong Gaolv Aquatic Products Co., Ltd. and Qiansan Island Aquatic Products Development Co., Ltd. in Lanshan District, Rizhao City.
---
here is the placeholder text