Environmental Information Announcement of Oriental Marine Processing Plant
---
---
According to the "Measures for the Disclosure of Environmental Information of Enterprises and Institutions" reviewed and approved by the executive meeting of the Ministry of Environmental Protection, the environmental information of our company's processing plants is now publicized as follows:
One: Basic information:
Unit Name:
Shandong Oriental Ocean Technology Co., Ltd.
Uniform Social Credit Code
91370000734690418Q
Corporate
Shiji
Production address
No.9 Aucma Street, Laishan District, Yantai City
Contact
0535-6729165
Fact Sheet

The processing plant covers an area of ​​108 acres and is mainly engaged in deep processing and import and export of aquatic food. The main products are cod, red fish, cod, mackerel, eel, flounder, etc. The products are mainly sold to Japan, South Korea, the United States and other countries. European Union and other countries and regions. Production wastewater and waste gas are treated in strict accordance with national environmental protection regulations:

Production waste water: After being treated by the sewage treatment station, it will be discharged into the urban sewage pipe network.

Production waste gas: After being treated by a wet dust removal tower and a high-efficiency atomization desulfurization absorption tower, it is discharged up to the standard.
Second: Construction and operation of pollution prevention facilities:
The company started construction of a sewage treatment station at the end of 2002, and completed the inspection and acceptance at the beginning of 2003. The total investment reached more than 1 million, and the environmental protection investment accounted for 2% of the total investment. Monitoring system, all pollutant indicators are up to standard discharge.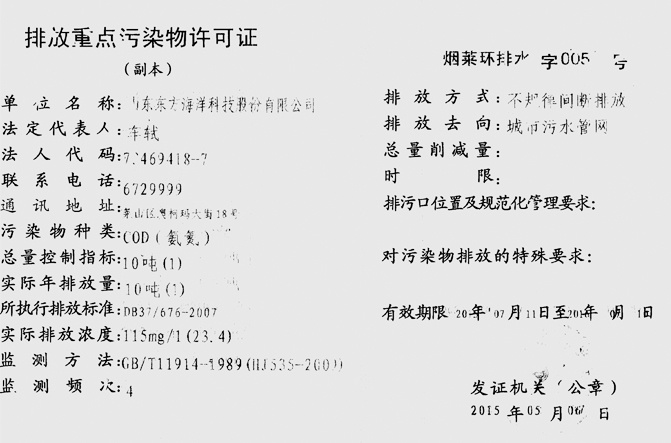 ---
here is the placeholder text