Salmon's Life Journey
---
---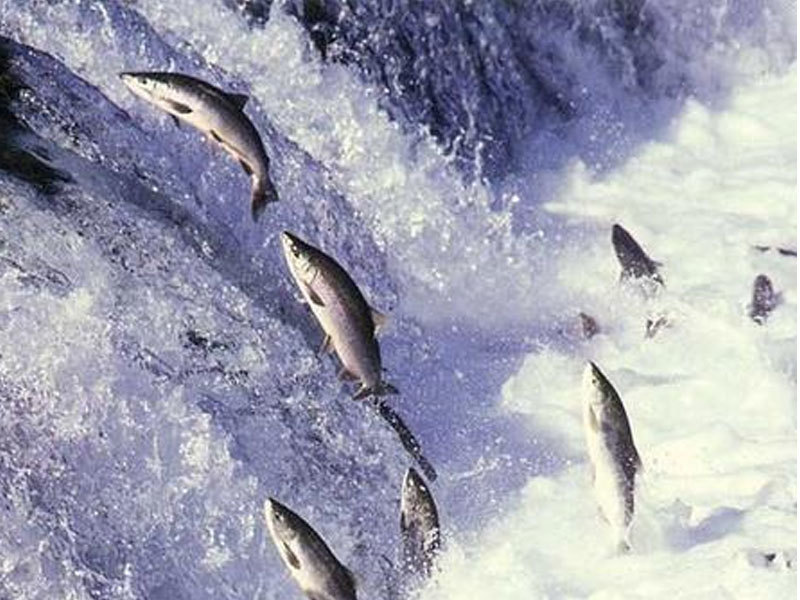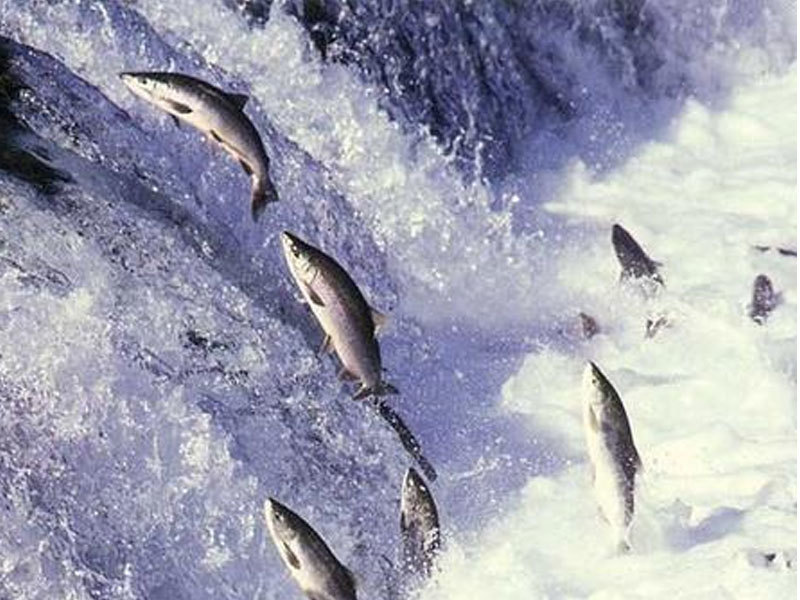 When we eat delicious salmon at the dinner table, we may think of their touching life stories.

Every four years in October, the calm waters of the Adams River in Canada's upper Fraser River boil, and thousands of salmon swim upstream from the Pacific Ocean to breed. The silver-white salmon turned scarlet as it went upstream, and the entire water surface turned red because there were too many fish.

The life of a salmon is amazing, starting from the eggs - each female can lay about 4,000 or so eggs and find ways to hide them under the pebbles, but a lot of them are still caught by other fish. Eat with birds as a delicacy - the surviving eggs survive the winter under stones and develop into juveniles. When spring comes, the juveniles go downstream into the freshwater lake, where they will spend about a year, and then go downstream into the sea, where they hide, most of them. The juvenile fish still cannot escape the fate of being preyed on. Three out of every four fish entering the lake are eaten, and only one can successfully enter the sea. The danger has not stopped, entering the vast sea, and entering a more dangerous area. In the boundless North Pacific, they struggle to grow while facing the onslaught of whales, seals and other fish; at the same time, there are more dangerous large numbers of fishing boats threatening their lives. For four full years, they have gone through countless hardships to grow into a mature salmon of about three kilograms.
As they mature, an inner calling sets them on their journey home. In early October, all the mature salmon gather at the mouth of the Fraser River, heading for their birthplace. Since the estuary, they will not eat anything, rushing on their way with all their strength, and going upstream will consume almost all their energy and stamina. They have to constantly leap from the water to cross the rapids and rapids, and some fish leap to the shore and become a delicacy for other animals, and some fish die before reaching their destination, and they die with them Thousands of eggs in their stomachs. Only two out of every 4,000 eggs initially laid by females survive to grow up and eventually return to the spawning grounds. After reaching the spawning grounds, they start digging pits to lay eggs and fertilize them regardless of the rest. After spawning and fertilization, the salmon both died of exhaustion, ending their journey of death only to reproduce the next generation. When winter comes, snow covers the earth, the whole world is silent, and under the silent river, new life begins to grow.
Salmon's life is full of danger and tragic. They overcome all kinds of difficulties and avoid countless dangers. Perhaps it is heredity and genetics to do so, not a conscious spiritual awareness. But this phenomenon, in the eyes of human beings, is still moving, making us ponder and inspire. Salmon's life runs through a clear main line of life: growth, growing up despite all kinds of difficulties and obstacles; experience, no matter how unfathomable the sea is, but also the experience of swimming from the calm lake to the sea to complete the course of each stage; mission , No matter how many obstacles you encounter, you must complete your life's mission and return to your birthplace to reproduce, even at the cost of life. This main line of life makes salmon life tragic.
In the process of human life, there should also be a very clear main line of life. We should strive to grow and make life mature at all costs. In order to mature, we should experience, experience nature, society, humanity and history, so that our life become perfect. We need a sense of mission. Living is not just for living. There are missions behind our lives. These missions may be different, but in the ultimate sense, they should be the same, so that we and our descendants can live Live happily in a more harmonious natural world. Also learn that we don't need to pay the price of life like salmon, but the spirit of completing this mission should be more serious and unshakable than the migratory spawning of salmon.
In the real society, too many people forget that they need to grow up and become lazy, boring and mediocre; too many people forget that they should experience becoming timid, narrow-minded and stubborn; too many people forget their own commitments Mission, become pale, confused and lost. Do the thousands of people who came to the river when the salmon returned to the river, while watching the salmon fight with death, did they get a little insight from them and start to think about the course of their own life?
---
here is the placeholder text